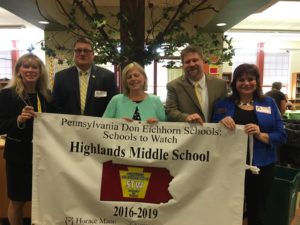 Congratulations chamber member Highlands Middle School for your "Schools to Watch" designation, and thank you for inviting the Alle Kiski Strong Chamber to your ceremony/celebration.
Schools to Watch® is an initiative launched by the National Forum to Accelerate Middle-Grades Reform in 1999.
Through the Schools to Watch® initiative, the National Forum identifies schools across the United States that are well on their way to meeting the Forum's criteria for high performance including academic excellence, developmentally responsive and socially equitable.