Home-turned-business goes back to Harrison's founding days
(Article Published in the Trib Total Media By Joyce Hanz, Photograph by Erica Dietz)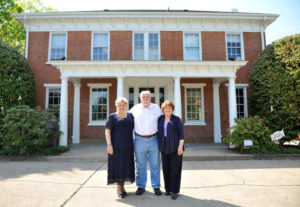 They say every house has a story, and the stately brick Federal-style home perched on a small hill overlooking Mt. Airy Cemetery along Freeport Road in Natrona Heights, Harrison, is no exception.
Nestled among residential and commercial properties on three acres, the home was constructed by John Harrison in 1839.
Current owners Wally and Janet Czekalski purchased the home in 1989 and restored it to its former grandeur to use for their family-owned business, Czekalski Real Estate.
When Wally Czekalski was a young man, he would hitchhike along Freeport Road in Natrona Heights, often standing on the same property he would later own.
"I never dreamed I would one day own this home; it proves that hard work pays off," says Wally, who also shares the same birthday, July 17, with John Harrison.
"It was all meant to be, with my parents buying this house," says Christine Czekalski Spece, the Czekalskis' eldest daughter and a real-estate agent for her parents' firm. Spece was inspired by the grounds of the home, even choosing to have her wedding to husband, Andrew, in the backyard in August 1995. "We have so many happy family memories here. It's nostalgic to me."
The Czekalskis enjoy visiting historic sights on vacation, so the opportunity to actually own a piece of local history was appealing.
Harrison Township, which includes Natrona and Natrona Heights, began as a pioneer farming community in the early 1800s. Incorporated later in 1900, the township was named in honor of one of its influential and prosperous residents — John Harrison.
Letters from Harrison's grandson Fred, which are in the Czekalskis' collection, detail the history of Harrison and the house.
Born in 1811 in England, Harrison settled in America in 1817 with his parents. He married Eliza J. Sampson in 1839, and they moved into their newly constructed home, which they dubbed Mt. Airy, on 1,000 acres. The couple would go on to raise six children; three boys and three girls. The 1860 Census describes Harrison's Mt. Airy farm as an "estate" with a value of $25,000.
A successful businessman as well as a farmer, Harrison is listed in 1870 Census documents as a salt manufacturer and the second wealthiest landowner in Harrison Township, behind the Brackenridge family.
He also was a stockholder and director of the 1st National Bank of Freeport.
The Harrisons hosted lavish parties and social events at the Mt. Airy estate, before Harrison died from injuries sustained in a carriage accident in 1879.
He is buried in Prospect Cemetery, Brackenridge. His wife resided for a short time on the farm but then moved to Pittsburgh and, later, Leechburg, where she died in 1919.
The longest-known residents of the home after the Harrisons were Dr. Francis Bauer, wife Virginia and seven children. They lived there from the 1940s to the 1980s and renamed it Oak Hill. When they sold, they gave an antique key (pictured right) to the Czekalskis.
Virginia Bauer provided the Czekalskis with what little information is known about the residence.
Driving past the stately home today, a vast manicured lawn greets visitors and clients to the real-estate firm. That wasn't the case in 1989.
"You couldn't see the house," Czekalski Spece says. "The house was hidden from the road behind the forest."
For 16 days, tree cutters worked removing 52 trees — primarily oaks — from the grounds and burning brush and grinding tree stumps.
"This place is a money pit," Wally says. "But it is rewarding. I have been 100 miles away from home on business and people will say, 'Yeah, I know your house.' "
The Czekalskis, who live in Natrona Heights but not in the Harrison estate, installed air conditioning in the 4,000-square-foot home with 10-foot-high ceilings, and added a paved parking lot for clients.
The four bedrooms upstairs house the appraisal department, while the real-estate office is downstairs.
"My employees have mentioned it's a pleasure to drive up to the house and work here," Wally says.
While the home is not on the National Register of Historic Places — too many restrictions, the Czekalskis say — it does boast many authentic details such as original brick and cherry woodwork. The first key to the home is on display.
The right wing off the entrance hall was at one time a parlor and library and features an original white, deep-grained marble fireplace. The space is now the conference room where "all the business takes place," Czekalski Spece says.
"This is my favorite room," Janet says. "I like to think of what it must have been like back in the days of yore, with the entertaining and social events."
The windows are tall and original, and one glass pane still bears the scratched-in initials from a Harrison descendant. Eight fireplaces exist, although some are now covered up. The kitchen fireplace is exposed and features original brick.
Over the years, artifacts have surfaced, items such as horseshoes, musket balls and nails.
"We have an original survey pin from 1881 with coins framed and displayed in what was once the formal living room of the home," Janet says.
Michelle Czekalski Bradley, daughter and certified appraiser and associate broker with the company, didn't enjoy history as a student at school.
"My mother always said as I grew older that history would become more important to me, and she is right," Bradley says. "I love the history of the home, especially the original wooden banister on the second floor. I like to think about how many children have slid down that over the years."
The Czekalskis hosted an open house a few years back, inviting the community to tour the home-turned-business.Busloads of locals arrived, eager to explore what could rightly be described as the grandest historic home in Harrison Township.
"I felt that people needed to see this house," Janet says. "Burtner House (historic home also in Harrison Township) is open all the time for tours and events, but we run a business here, so it was nice to serve lemonade and cookies and have an open house for the area residents."
Joyce Hanz is a contributing writer for Trib Total Media.